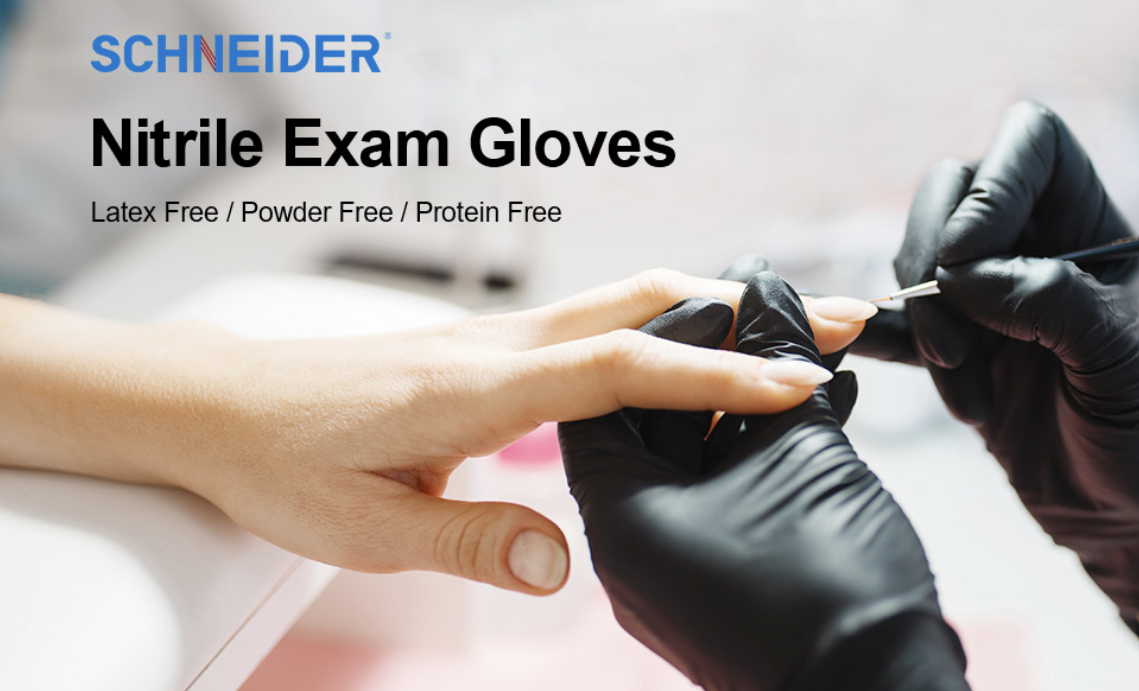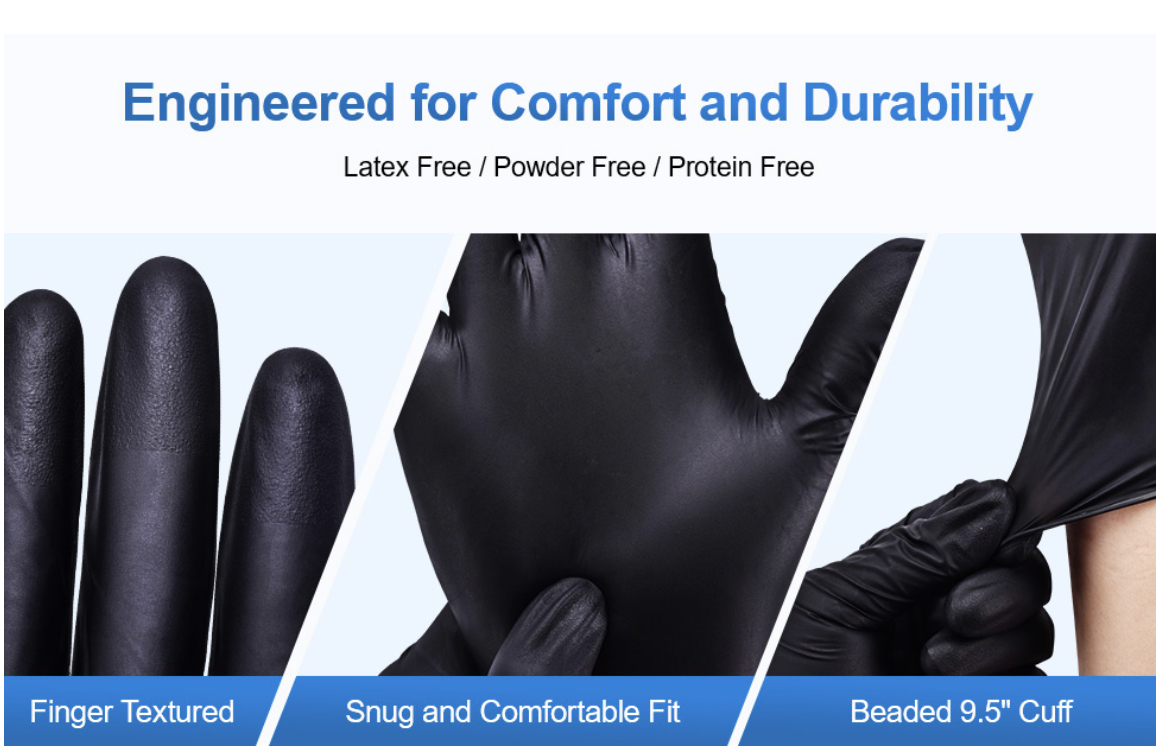 Features and further details
---
Schneider is a fast-growing brand of disposable gloves and other medical supplies and tools. Schneider is committed to making the protection of your health easier and more affordable. Whether you're home, clinic, hospital, school, senior care, child care, food service, janitorial service, manufacturing plant, salon, mechanics, veterinarian, or shop, avoiding cross-contamination and protecting your hand is essential to you, your family, employees, and clients. We invented advanced technology to create disposable protective gloves meeting your needs at different levels, without limiting your work or burning your budget.
For thick gloves consider ordering a size larger as they run tighter than standard gloves. 
Medical Exam Glove: These 5.5 mil thick black nitrile gloves are high-quality medical grade and double times more puncture resistant than latex gloves. Schneider black nitrile medical gloves also provide greater chemical resistance.
Latex Free Gloves: Free of natural rubber latex, these disposable latex-free plastic gloves help reduce allergic skin reactions to latex and protein; they are elastic and stretchy but do not carry the risk of causing latex allergies.
Food Safe Gloves: Our disposable rubber gloves are food grade that can be used as disposable food gloves, cooking gloves, food handling gloves, and food service gloves.
Sizes & Packaging: 100 black gloves per box; also by a case of 10 boxes (100ct each) - a load of 1000 gloves bulk. Case color-coded for small, medium, large, and extra large (XL) gloves. Our ambidextrous gloves are fit for men and women.
Multipurpose: Black nitrile gloves offer great dexterity and tactile sensitivity, ideal for examination, household cleaning, cooking gloves, food prep, food service, tattoo gloves, janitorial service, esthetician, painting & animal handling.
Contact us
---
We can be contacted at any time through  messages or email to :
support@bnmhealth.com
if you have any questions, comments or product requests. We will respond to you within 24 hours and do our best to help you out! We encourage our customers to contact us with any questions or concerns! We'd like to be sure you are completely satisfied with your purchase
Thank you
Very nice gloves and good deal
I always like to keep some nitrile gloves at home for various reasons. I'm not concerned about using these in a medical sense but I do like to keep my hands as clean as possible during certain tasks like picking up dog poop in the yard, taking out a saucy/wet garbage bag, cleaning the toilet, mixing up food in a bowl like meatballs, and many others. Since I'm not allergic or sensitive to any materials, my only real concern is whether or not these gloves are 1. comfortable and 2. easy to pull apart. There are some nitrile gloves that stick together and become such a mess to peel apart from one another, and some gloves are downright just uncomfortable to wear because of how the material rubs against the skin and the stretch within the material. These gloves make me a happy camper on both fronts.
I have a latex sensitivity but require gloves for my profession. I've found that nitrile gloves are the only thing that doesn't induce eczema breakouts on my hands. I mostly use these for hair coloring services.The fingertips also have a slight texture to them for grip. I have tiny hands and ordered the Small size, they fit perfect.
These fit like a glove. They are comfortable, have a bit of texture on the fingerprint area so it would help with tasks that involve a good grip and they are STRONG! I pulled on one of the fingers and it stretched a LOT without breaking or tearing so I know they will not give up on you in the middle of your task. They would come in really handy on all kinds of activities so go grab yourself a box, I'm sure you won't regret it.